Digital Marketing Analysis & Why It's Important
Wondering how your company appears online? Our Digital Marketing Analysis is like a CT Scan for your company. It will show you how your company appears online and it's effectiveness in 7 areas (Listings, Reviews, Social, SEO, Advertising, Website, and Ecommerce) and how you compare against the competition in your industry.
The Why: As of 2020 there were over a Billion of websites on the internet. The upside is that there is only 189 Million active websites. Of course the numbers go down even further based on your industry. The point is that usually when you are competing with 3, 4, 10, 15 or more competitors you need to know how you stack up and exactly what one of the seven verticals should you work on first so you can surpass your competitors.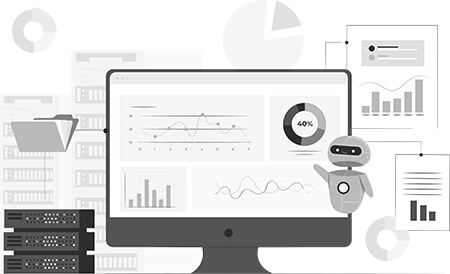 Your marketing is like a black box.
You know what you're doing and why, but it's hard to tell if your efforts are working or not.
We provide an easy-to-read digital marketing analysis report that includes actionable recommendations for improvement as well as a detailed analysis of what is currently working for your business. You'll be able to see exactly what needs to change so that more people can find out about who you are and what you do!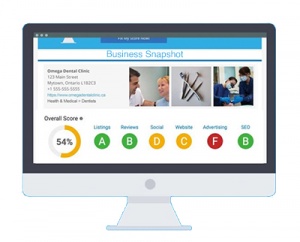 Overall Score: Indicates how well your digital marketing is performing in comparison to other businesses in the same industry. There's no pass/fail - you should strive to be as close to 100% as possible.
Listings: Aggregates data from over 70 directories to show you the
● Number of listings
● Accuracy of listings
● Missing sites
Reviews: Aggregates data from over 30 customer review sites to highlight:
● Number of reviews
● Recency of reviews
● Average score
Social: Investigates your business's social media presence:
● Facebook: Likes, Avg Posts/mo, Avg Likes/Post, Avg Shares/Post
● Twitter: Followers, Following, Tweets*
● Instagram: Followers, Posts*
Website: Assesses your website section looks at:
● Homepage content
● Mobile responsiveness
● Desktop load speed
● Ten speed metrics
SEO: Provides valuable insights on how your SEO stacks up against your competitors:
● Organic Keyword Performance,  Organic Keyword Ranking,  Overlap,  Clicks and Value.
Advertising: Provides valuable data on your digital advertising performance and potential.
● Google Ads, Retargeting, Recommended Keywords and Campaign Performance
BONUS: Digital Business Hub
Manage and see data from all the accounts and services you already use.
FREE Executive Performance Dashboard
FREE Book Me Now - Book Meetings with Customers
FREE Quickbook - Connection
FREE Business Listing Builder System (Google & Facebook)
FREE Digital Ads Manager System (Google & Facebook)
FREE Set appointments with clients through Google Meet and coming soon Zoom
Connect your Google My Business, Facebook and more
Social Media Marketing Platform (30 Day Trial)
Reputation Management Platform Platform (30 Day Trial)
Customer Voice Platform (30 Day Trial)
CrankWheel Screen Sharing Platform (30 Day Trial)
FREE Digital Marketing Resource Library
FREE Online courses to help you scale and grow your business
Information and pricing on all our products and services