Marketing Needs Assessment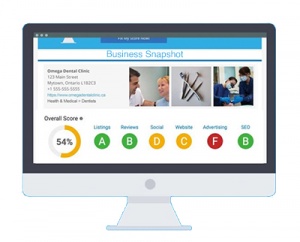 Overall Score: Indicates how well your digital marketing is performing in comparison to other businesses in the same industry. There's no pass/fail - you should strive to be as close to 100% as possible.
Listings: Aggregates data from over 70 directories to show you the
● Number of listings
● Accuracy of listings
● Missing sites
Reviews: Aggregates data from over 30 customer review sites to highlight:
● Number of reviews
● Recency of reviews
● Average score
Social: Investigates your business's social media presence:
● Facebook: Likes, Avg Posts/mo, Avg Likes/Post, Avg Shares/Post
● Twitter: Followers, Following, Tweets*
● Instagram: Followers, Posts*
Website: Assesses your website section looks at:
● Homepage content
● Mobile responsiveness
● Desktop load speed
● Ten speed metrics
SEO: Provides valuable insights on how your SEO stacks up against your competitors:
● Organic Keyword Performance,  Organic Keyword Ranking,  Overlap,  Clicks and Value.
Advertising: Provides valuable data on your digital advertising performance and potential.
● Google Ads, Retargeting, Recommended Keywords and Campaign Performance
BONUS: Digital Business Hub
Manage and see data from all the accounts and services you already use - all in one place.

● Connect your Google My Business, Facebook, QuickBooks, and more
● Free digital ads manager system
● Free digital marketing resource library
● Free online courses to help you scale and grow your business
● Information and pricing on all our products and services
● Executive performance dashboard
● Appointment Scheduling empowers you to book appointments online with real time availabilities and automated reminders.
● Set video conferencing appointments with clients through Google Meet and coming soon Zoom