Testimonials
We are very proud of the service we provide for our customers. In fact, we see a client relationship drastically more personal than that of most agencies in our field.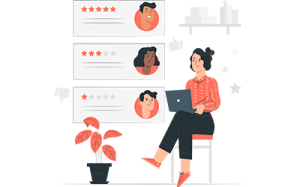 "This makes it easy for a business owner/person to post to social platforms. All social platforms are for FREE however, you can not post on all of them all the time. This links everything together for easy access to post. Affordable. Happy with the Customer Service after the sale." "Sharon has been amazing. She is patiently walking me through the review, social media programs and will be working on the loyalty programs in the future. She is knowledgeable about what is going on in this field and offers very helpful suggestions. I understand my business more now than I did before, am more organized, and most importantly, offer a professional organized image." Easy to use. I send an email to my customers asking for feedback once a week and am seeing very good results in getting new reviews on various social media sites. This is a great service which should help boost sales in the long run. Jeanne Ukwendu
CEO & Founder
This is a great simple platform for generating reviews for our small photography business. Sharon took the time to teach all of us how to use the platform in great detail, and we were up and going within the hour. We love that we are able to feature the reviews in real time on our website and how easy it is to send review requests to our clients. We greatly recommend this program to any small business. Celeste Durham
Office Manager
"This has been a great investment for our practice. Our social media posts are very engaging and the patient responses have grown steadily since we started." Sherry Walton
Office Manager
Sharon is absolutely wonderful to work with! The posts she has created for our company has surpassed our expectations. She is quick to communicate any thoughts or issues and is always striving to make sure we are taken care of in the best way possible. We appreciate her hard work and dedication in making our vision come to life on our social media pages. Keysha Evans
Office Manager
The program is very well thought out and organized. It's easy to use. Sharon, our account Rep, has provided excellent support throughout the process. Carol McEwin
CEO & Founder